As part of our series of #InsideKurio post, we want to share this week's guide and tips of topic in Kurio to follow. This week we want to focus for our users who work in agencies, marketing field, and digital marketing industry.
10 Topics on Kurio that every agencies/digital marketing and marketers should follow on Kurio:
1. Online Marketing.
We have great collection on best practice, tips, and great article on online marketing. We cover great insights on the importance of blogging, case studies from around the world of digital marketing campaign, SEM, Facebook Campaign, and more. We believe our users can learn and get many insights to help them be better in their field.
2. Content Marketing.
This buzzword has been on the rise these past couple years, parallel with the growth in social media and online marketing, content marketing takes the center stage. The importance of creating the right content, tips on distributing the content, content that works for brands and consumers are among the things that covered in this topic.
3. SEO
With every companies, brands, and product building their own web presence, the visibility of their content, product, and offer are at the utmost priority for most marketers. Discover all tips, how to, best practice, and some reference of how companies practice SEO are some of the insights that can be applied
4. Mobile Marketing
Mobile has quickly become the main medium for consumers accessing information and browse the net. Brand will be able to engage their segment consumers by better understanding their behavior and usage pattern.
5. Social Media
If content is the gasoline/ fuel, then Social Media is the vehicle. Social Media has taken consumer Internet by storm, not only dominated by the large service such Facebook, LinkedIn, Twitter, Tumblr, and Google Plus, but more smaller new upcoming services like Path, Instagram, and messaging platform like We Chat, Line, Kakao Talk are services that in the similar space in social network. In Kurio, we cover and present many great article, tips, updates, and best practices to understand better, as marketer we can navigate better and come up with great solution for the brand.
6. UI/UX
With more demand from clients to create more digital assets such website, microsite, mobile site, and mobile app, agencies will need to evolve to understand more the essence of product development in regards Usability, User Interface, User Experience.
7. Web Development
Web development has transform so much all these years, not only it changes, but the changes also takes place rapidly. More new upcoming technology, platform, cross platform that influence how web developer build a website. Marketers and agencies should keep up with all the innovation and evolution that takes place in order to optimize their current website or building a new one. In this topic, Kurio collect, curate, and surface many great article on A/B Testing, Optimizing your landing page, analytics, updates and tips on new technology, tools, frame work, and platform, HTML 5, Responsive web format, etc. You will discover great insights and practical information to build a better website for your business.
8. Marketing
Kurio offers great collection of marketing article for marketers to stay update with new marketing strategy and tactics, while also explore new great learning on best practice for marketers.
9. Advertising
Discover many article on style, trend in communication, branding, and advertising across multi media.
10. Self Improvement
I throw this last topic, knowing the challenge, difficulties, (read: stress) it can be working in the advertising and agencies industry. Navigating and perform great service level across the business, translating (read: guessing) what the client side really want in their campaign, and helping them to achieve that success, etc. Self Improvement will help us to rethink everything. How we should carry our self, how to interact and relate to others. Understanding more about life, will help us to stay sane 🙂
As usual, please note that we are continuously adding our sources and stories along the way, so stay tune, and we appreciate your kind understanding if several topics might not have the full complete stories that you expect to have. We promise we will make it awesome and more important, be useful and practical for you.
You can find all these great list of topics on our main topic in Business, Product Development, Social Media and Online Marketing on your first time download our app, during personalise your Kurio page. And also you can add and discover more list of Kurio topics when you tap the Axis, and find 'Explore' menu on your top right hand side of the screen.
If you have any further request of more topics or area/ field of interest, please don't hesitate to shoot me an email to david@kurioapps.com or tap me on Twitter @davidwayneika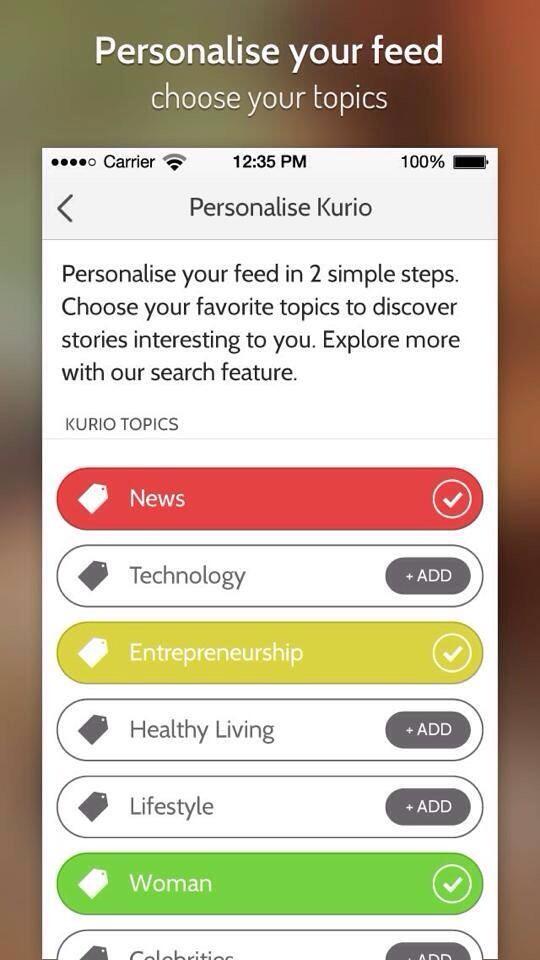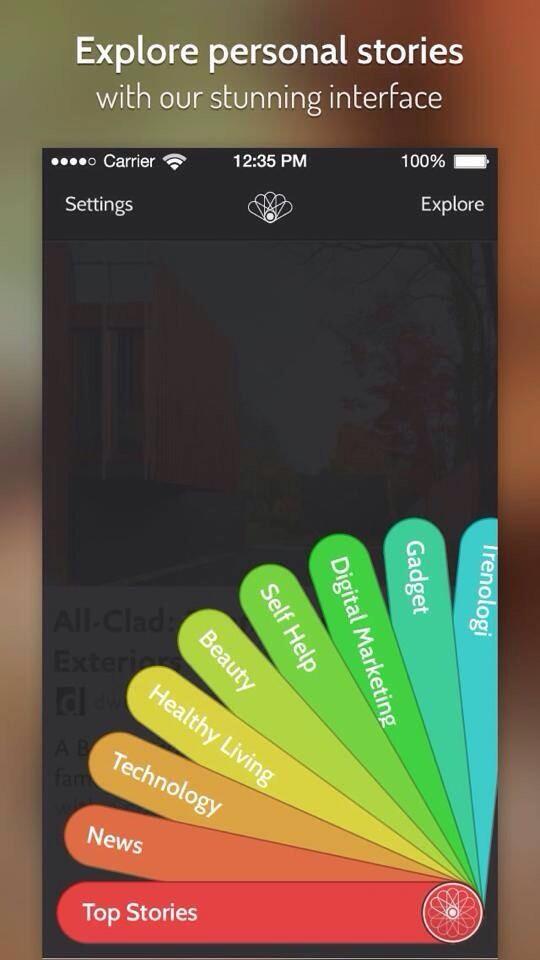 Have fun!